Arthra (アースラ Āsura)[1] is an Administrative Bureau investigative spaceship. It is under the command of Lindy Harlaown in the early series (including Nanoha, A's manga, and A's). In the course of the final Book of Darkness Incident in A's, it is retrofitted with an Arc-en-ciel.
In StrikerS manga, Arthra is still in service, with Chrono Harlaown as her captain, but in StrikerS (ep.14), the Bureau plans to scrap her after her retirement in the subsequent month. Later Riot Force 6 requests to use her as their temporary mobile headquarters when the Long Arch undergoes repairs.
The first fan translations of the series rendered the ship's name as "Asura", after a race of celestial beings in some oriental religions and mythologies.
Classification
Edit
Arthra is identified as the eighth ship in the L-class series, which also included Clyde Harlaown's Estia.[2]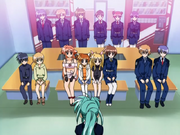 References
Edit