Boosted Illusion

Boosted Illusion creates several illusions indistinguishable from the real person

Spell profile
Primary caster
Teana Lanster
Caro Ru Lushe
Classification
Magic system
Mid-Childa
Category
Illusion
Production
Japanese name
ブーステッドイリュージョン

(Būsuteddo Iryūjon)

First app.
StrikerS (ep.17)
browse data...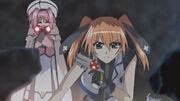 Boosted Illusion (ブーステッドイリュージョン Būsuteddo Iryūjon) is a combination spell of Teana Lanster and Caro Ru Lushe, being a version of Teana's Fake Silhouette enhanced by Caro's boost magic. Both casters must maintain concentration to keep the illusion up. Kerykeion refers to the boost support as "energy boost".
Community content is available under
CC-BY-SA
unless otherwise noted.