Circle Protection
Spell profile
Primary caster
Yuuno Scrya
Alph
Classification
Magic system
Midchilda
Category
Defense
Type
Barrier
Production
Japanese name
サークルプロテクション

(Sākuru Purotekushon)

First app.
Nanoha (ep.5)
browse data...
Circle Protection (サークルプロテクション Sākuru Purotekushon) is a high-level barrier-type defensive spell under the Midchildan system.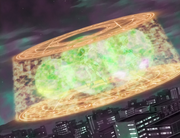 This development of Protection generates a strong hemispheric barrier from the magic circle under the caster's feet to protect the caster and his/her nearby area.[1] When cast in the air, it is cylinder-shaped instead of hemispheric, with one more magic circle above the caster.
Possible uses of the spell are noted as follows:
Community content is available under
CC-BY-SA
unless otherwise noted.