Music is an integral part of the anime series within Nanoha franchise. The original music in all seasons was composed by Hiroaki Sano. The sound director of all three was Toshiki Kameyama. All opening themes in the original Japanese series until ViVid Strike! had been performed by Nana Mizuki, Fate Testarossa's seiyū, and all ending themes, by Yukari Tamura, the voice actress of Nanoha Takamachi. Each season also had an insert song sung by Mizuki.
Character Song Complete Box
Edit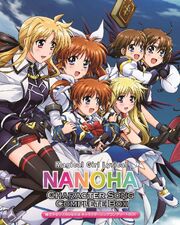 Magical Girl Lyrical Nanoha Character Song Complete Box (魔法少女リリカルなのは キャラクターソング コンプリートBOX) is a 6-disc complete containing all the characters songs from all the previous Nanoha series, plus three new songs available exclusively in the set. It was released on November 20, 2019, prior the announcement of the "Lyrical☆Live" event to celebrate the franchise's 15-year anniversary.[1]
References
Edit
Community content is available under
CC-BY-SA
unless otherwise noted.