Thunder Smasher
Spell profile
Primary caster
Fate Testarossa
Classification
Magic system
Midchilda
Category
Attack
Type
Bombardment (Aimed)
Parameters
Power
A-
Range
A
Casting speed
B
Production
Japanese name
サンダースマッシャー

(Sandā Sumasshā)

First app.
Nanoha (ep.5)
Thunder Smasher (サンダースマッシャー Sandā Sumasshā) is Fate Testarossa's bombardment attack, fired with Bardiche's Device Form. It is usually fired from a Midchildan Circle muzzle by striking Bardiche onto/through it.
Analogous to Nanoha Takamachi's Divine Buster, Thunder Smasher is also capable of being used as a sealing bombardment.[1] The notable incantation used by Fate is "Shoot it out, rumbling thunder!" (撃ち抜け、轟雷! Uchinuke, gōrai!)[2]
Notable uses
Edit
Thunder Smasher is first cast in Nanoha (ep.5) against Nanoha.
In Nanoha (ep.7), Fate casts it against the Jewel Seed tree monster.
In Nanoha (ep.12) / The MOVIE 1st, Fate casts it together with Nanoha's Divine Buster to break the barrier of a gigantic golem at the Garden of Time. Such an "overstrike" with bombardments of different nature has high effectiveness to break the barrier or shield of an opponent with superior defense.[3]
Fate also uses this spell as a feint attack against Chrono Harlaown during her mage exam in A's manga (ch.2).
Variations
Edit
Thunder Smasher may be developed based on Jet Smasher, a speedy bombardment spell possessed by Fate's magic teacher Rynith. Its other variations include: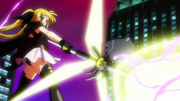 References
Edit